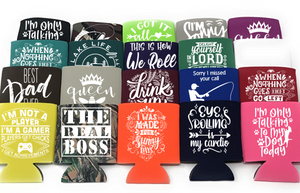 **YOU MUST USE A HEAT PRESS WHEN APPLYING THESE TRANSFERS**
Includes our authentic, traditional screen print formula and our buttery soft screen print formula which is as close to a direct screen print as possible. This formula is opaque and slightly distressed and may look a bit different on light and dark apparel. 
Transfer size:

Up to 3" - assorted designs (16 or more)
Application Instructions:
YOU MUST USE A HEAT PRESS

Temperature: High Heat 325 Degrees

Pre-press garment 3 seconds 
Time: 7-10 Seconds*

60 PSI ~ HEAVY pressure

HOT PEEL
*Each heat press can vary with time and temp. Be familiar with your press and how it runs. You may need to slightly adjust them up or down as well as press time. These are manufacturer recommendations only.*
Recommended blank to use with this transfer:
 -100% Cotton T-shirt
-Cotton/Polyester Blend
-Cotton Tote Bags
-Poly/Cotton Pillow Covers
Blanks that will NOT work on:
-100% Polyester,  wooden or ceramic blanks (mugs, plates, etc), metal (tumblers, glasses, etc), and glass Items
What is plastisol screen print ink? Plastisol inks can be printed on virtually any surface that can withstand the heat required to cure the ink and is porous enough to permit good ink penetration. Plastisol inks do not color the fibers like a dye. Instead, the ink wraps around the fibers and makes a mechanical bond with the fabric. For this reason, they will not adhere to non-porous substrates such as plastic, metal, and glass. They also will not adhere well to woven waterproof nylon material. I DO offer a screen print formula for those garments, so please message for a quote.
*** KB Designs is not liable when the transfer is applied improperly. If you have not pressed high heat transfers before, please add SAMPLE in your order's notes. We will include small or scrap pieces for you to familiarize yourself with this formula prior to pressing full designs. Heavy pressure is a high as possible and if using a clamp press, it must be closed. ***