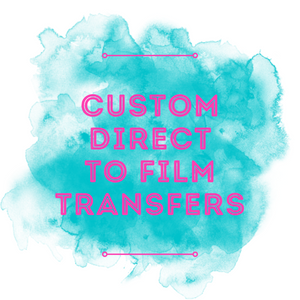 FULL COLOR LOGOS, MASKS, KOOZIES, POCKETS, & TODDLER SIZED CUSTOM IMAGES! 
NO TRADEMARKED IMAGES OR LOGOS CAN BE PRINTED! A 6.5% charge will be deducted when refunding trademarked orders to cover processing charges, so please be sure your image is okay to print!
DISCOUNTS CANNOT BE APPLIED TO THIS ITEM
This custom listing is any print ready image and multiple images are allowed on each sheet (must be submitted print ready on the same canvas).
These can be images of your logo or customs design OR any that I have (The KB Designs: Custom Designs... FB group has a very small sampling of my files and I own the transfer print rights to several dozen designers). 
You must EMAIL me your ready to print images (transparent PNG [with no background) and 300 DPI] with the expected size for EACH design as a REPLY to your order confirmation email within 24 hours of purchase. Files are NOT reviewed for print quality unless requested prior to ordering. Images will print as you send them otherwise. No refunds are offered for images that do not print as you wish if you do not ask for a review.
Orders received MORE THAN 24 hours after ordering may have an additional 5-6 business day delay.
KB Designs is not responsible for images submitted which do not meet print standards. You MUST EMAIL PRIOR TO purchasing if you have any question whatsoever about your image and it's print-ready formatting. If you send an image with a background, it WILL print as well, thus the requirement for a transparent PNG image to be submitted.
Please note that designs are printed in a CMYK color format which may slightly alter the final colors.
**YOU MUST USE A HEAT PRESS WHEN APPLYING THESE TRANSFERS**
Application Instructions:
Prepress garment for 15-20 seconds
Press at 300 Degrees F for 15-20 seconds
60 PSI ~ heavy pressure
Warm or cool peel evenly from corner and discard transfer film
cover with Teflon sheet and repress 15-20 seconds
*Each heat press can vary with time and temp. Be familiar with your press and how it runs. You may need to slightly adjust them up or down as well as press time. These are manufacturer recommendations only.*
*** KB Designs is not liable when the transfer is applied improperly or once pressed***