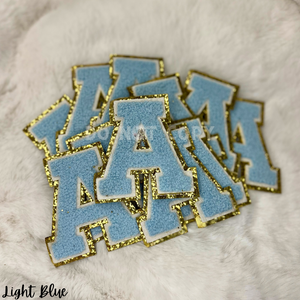 **YOU MUST USE A HEAT PRESS WHEN APPLYING THESE TRANSFERS**
DO NOT ORDER WITH OTHER ITEMS except bags!

These glittered chenille patches are on trend for Spring and Summer! Choose from letters, numbers, or symbols for shirts, jackets, or joggers! We offer letters, numbers and other symbols on separate listings as well.
Application Instructions:
YOU MUST USE A HEAT PRESS

Temperature: 285 Degrees* 

Pre-press garment 5 seconds and cover chenille with parchment paper or teflon sheet.
Time: 10 Seconds* 

Medium - high pressure

Allow to cool. Keep paper covering chenille and turn garment inside out and repress on the back. Repeat press if needed for best adherence. 
*Each heat press can vary with time and temp. Be familiar with your press and how it runs. You may need to slightly adjust them up or down as well as press time. These are manufacturer recommendations only.*
Recommended blank to use with this transfer:
 -T-shirts, jeans and jean jackets, joggers, hats, makeup and duffel bags
*** KB Designs is not liable when the transfer is applied improperly.***
33022