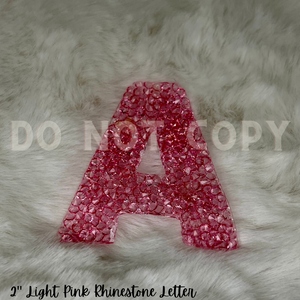 DO NOT ORDER WITH OTHER ITEMS except bags or other letters!
Pre-Sale item arrives within 2-3 weeks.
These rhinestone patches are on trend for Spring and Summer!
Application Instructions:
Temperature: 180 Degrees* 

Pre-press garment 5 seconds

Place letter and cover with a piece of fabric
Time: 10 Seconds* 

Medium pressure

Allow to cool. Keep fabric covering rhinestone letter and turn garment inside out and repress on the back. Repeat press if needed for best adherence. 
*Each heat press or iron vary with time and temp. Be familiar with yous and how it runs. You may need to slightly adjust them up or down as well as press time. These are manufacturer recommendations only.*
Recommended blank to use with this transfer:
 -T-shirts, jeans and jean jackets, joggers, hats, makeup and duffel bags
*** KB Designs is not liable when the transfer is applied improperly.***
41022